Clement and the Bosox take on Baltimore and young Cabrera at 7:05 EST
(By: Reedster)
I have highly touted Cabrera this year... let's see if he lives up to the hype in what will be a very difficult test, throwing against the likes of Manny Ramirez and Big Papi Ortiz.
Last comment by: JCacho @ 4/7/06, 4:34pm
YankeesSuck.com Fantasy League
(By: JCacho)
Last night, I took part in Yankeessuck.com's second annual draft, composed of a grand total of 12 teams. In preparation for the draft I thought of taking a strategic order in my picks; first I would grab one of the 'first-pick' players such as Manny or Pujols and such. I ended up picking Jason Bay, who I believe will only get better. After this pick, I remembered about how catchers were talked about in one of the Podcasts, and I remembered theres only about 4 dependable catchers, Pudge, VTek, Mauer, and Martinez. I looked up their stats. I ruled out Pudge because it looks like he is getting older and weaker by the second. I was left with three catchers. I...
Last comment by: Reedster @ 3/3/06, 4:54pm
Re: Who Will Win The A.L. East?
(By: JCacho)
I fail to see how people are already handing the Blue Jays the Wild Card. They have yet to play one game. AJ Burnett is as much a risk as Josh Beckett, if not more. Glaus hits for power, something the Jays need, but his average is anything but good. They don't have a Shortstop. The only good [guaranteed] acquisition they made was BJ Ryan.
The Sox on the other hand, replaced surplus offense for some much needed defense and pitching. While it seems we created holes in the lineup with Lowell and Gonzalez, we just replaced the old holes, Millar and Bellhorn, while at the same time upgrading our defense immensely. We acquired Mark Loretta, a .300 hitter, in the...
Last comment by: Jaydawg @ 10/22/06, 2:51pm
Re: PlayerTrack.com for One Year Contest: Photoshop Oscar Gamble in a real life situation
(By: Reedster)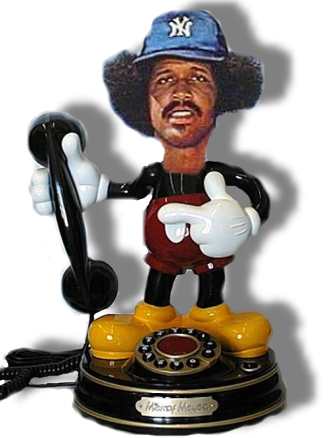 Last comment by: JCacho @ 2/19/06, 5:48pm
&nbsp &nbsp &nbsp
Tickco.com - Tickets for the Red Sox, White Sox, Braves, Cubs, Yankees, Royals & all World Baseball Classic games.

Tickco.com - Tickets for Red Sox, Astros, Mets, Reds, Yankees, Cardinals & the World Baseball Classic.
Comments (2)