And we have a winner in the Design a Baseballgeeks T-Shirt!
(By: Reedster)
Rob Reed from Los Angeles, CA!
Oh, that's me! :)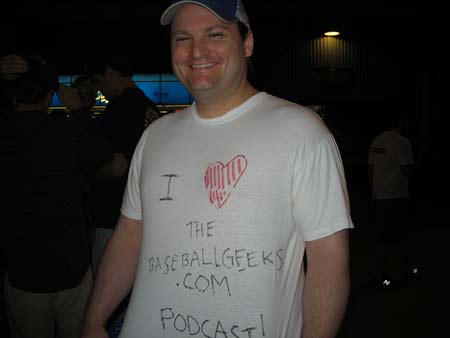 Outside Camachos, near section 43, Reserve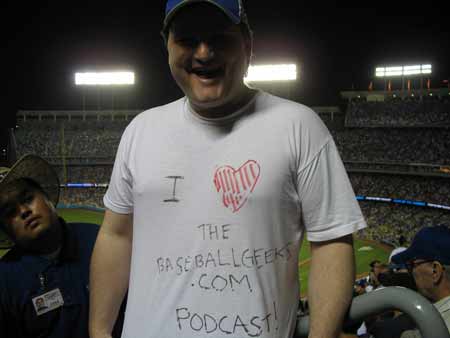 The usher wants to get a look...
Last comment by: drrubb @ 7/9/06, 5:30am
It is amazing how "money" my fantasy predictions can become, solely on who I decide to keep up on my own teams, and who to throw down.
I put down Beckett and Garcia this week. I kept up Pettitte.
/I suck
Last comment by: drrubb @ 5/10/06, 7:32pm
| | |
| --- | --- |
| &nbsp May 5, 2006 | &nbsp TIG REPORTS &nbsp |
TIG 7: Let me have what these guys are having for breakfast...
(By: Reedster)
***CONTRERAS CONTINUES HIS DOMINANCE; KING FELIX, NOT SO ROYAL... WELL, ON SECOND THOUGHT...***
Contreras (with his 13th straight decision) has pitched at the level that was expected of him when the Yankees brought him up in 2003. I think he is the real deal, folks.
As a fantasy player, you'll need some folks to offset his low strikeout rate, but in all other categories, I think you can expect a consistent 2006... there will be some back to earth outings this year, but -- as long as he stays healthy -- I would stick with him every week.
And, when we refer to Felix Hernandez as "Royal," I can only comment that he is pitching LIKE a Royal, as in Kansas City. Strikeouts...
| | |
| --- | --- |
| &nbsp May 4, 2006 | &nbsp FANTASY &nbsp |
Today, I made a desperate move.
I'm third in OBP. I'm first in SBs by 15. I'm first in offense as of today.
I am last in pitching.
I trade Bobby Abreu and Joe Borowski for Roy Halladay and Lew Ford. Lew Ford is a waste pick. I have a ton of SBs with Felipe Lopez, Brandon Phillips/Brian Roberts, and Jose Reyes.
I know Halladay had a rough outing against the Bosox at Fenway, but he had a good outing against them, too... and he had a good outing against the Yank offense earlier, so I think he is back to regular form.
He just has to stay healthy, and hopefully, he will singlehandedly bring me up in the pitching categories.
Thoughts?
Did I...
Last comment by: sambruin98 @ 5/5/06, 11:23am
| | |
| --- | --- |
| &nbsp May 4, 2006 | &nbsp TIG REPORTS &nbsp |
TIG 6: Rookie of the Month award is a jinx
(By: Reedster)
***PAPELBON'S RESPONSE AFTER GETTING AL ROOKIE OF THE MONTH: TAKE THIS!***
Papelbon blows his first save opportunity after it is announced that he was awarded the AL Rookie for the month of April. Don't worry, Papelbon fans. The kid is fine. He can't win 'em all.
It will be interesting to watch if this, somehow, screws up Papelbon's concentration. His resiliance is put to the test, but I suspect Papelbon will go right through, without problems, and continue his dominance.
The other question: are hitters just figuring him out now? Papelbon had two saves against the Blue Jays in the month of April. This was the third time he was facing them. Something to think about.
***GETTING MAD AT MADDOG***
Gregg and I were interviewed for...
| | |
| --- | --- |
| &nbsp May 3, 2006 | &nbsp TIG REPORTS &nbsp |
TIG 5: If you can't hit homeruns, hit the pitcher
(By: Reedster)
***IF KENDALL CAN'T HIT 'EM OUT, AT LEAST HE CAN HIT THE PITCHER***
Lackey had some choice words for Jason Kendall when Kendall wouldn't get out of the way of a pitch inside. The ball didn't hit Kendall, but I suspect Kendall said something to Kendall like: "Get out of the f*****g way, you [another word for a cat]!"
Kendall charges the mound, and both Kendall and Lackey get kicked out.
Interesting irony: Kendall did the same thing with current teammate Joe Kennedy, when Kennedy was with Colorado and Kendall was with Pittsburgh. Said Kennedy: "I threw a 1-2 fastball over the plate, and he leaned over and got hit by it. I told him, `Next time get out of the...
Last comment by: MizzouAstro @ 5/3/06, 8:03pm
| | |
| --- | --- |
| &nbsp May 3, 2006 | &nbsp TIG REPORTS &nbsp |
TIG 4: Surrendering Mike Jacobs
(By: Reedster)
[Reprinted from baseballgeeks.mlblogs.com from 5/1/06]
***WAVING THE WHITE FLAG AT MIKE JACOBS***
Mike Jacobs is one for his last 25 ABs (0-5, today). I am waving the white flag. I will be dumping him in one of my fantasy leagues... he looks destined to head to the minors to get some work and work on his hitting... he clearly is out of his league at this point, and he is dead weight on any fantasy squad.
***HOMERUN BARRAGE CONTINUES***
22 homeruns hit today... that is 90 HRs in the last three days. Anybody want to still argue that the last few years of homerun barrages was solely the result of performance enhancing drugs?
***THE KILLER B'S, A HUDSON, AND A ZITO***
Bronson (Arroyo) had yet another wonderful...
Last comment by: TheBlueJayWay @ 5/4/06, 10:04am
| | |
| --- | --- |
| &nbsp May 3, 2006 | &nbsp TIG REPORTS &nbsp |
TIG 3: Baseball Geezers continue dominance, power bonanza, and Gammons potentially hitting the pipe
(By: Reedster)
[Reprinted from baseballgeeks.mlblogs.com on 5/1/06]
***BASEBALL GEEZERS OF THE DAY***
Kenny Rogers, the ballplayer and not the country singer. 4 Ks, 2 hits, 1 walk. Sure, it was the lowly Twins, but Kenny is helping to confirm the Tigers' title as surprise team (to me) of the year. Rogers certainly will have his bad outings, but it is this kind of outing that clearly shows that he is far from done.
Mike Mussina strikes out 7 in 6 innings, and looks absolutely solid. Thanks to Mike for making Gregg and I look good for recommending him as a must two-start starter for Week 4. He almost got himself kicked out of the game, though, for arguing balls and strikes, so we must also thank...
| | |
| --- | --- |
| &nbsp May 3, 2006 | &nbsp TIG REPORTS &nbsp |
TIG 2: More runs than the common cold
(By: Reedster)
[Reprinted from baseballgeeks.mlblogs.com after the 4/29/06 games]
***MENCH STREAK ENDS***
Sorry, Kev, if I jinxed you last night, but kudos to you on your seven (edited 4/30/06, thanks Mark!) straight. The Rangers still win the game, and some other elements of the game are worthy of note. Broussard, coming off the best game of his career (and probably the season), comes back with another HR and a 2-4, 2 RBI day.
Akinori Otsuka, currently the replacement closer for Texas, gets his first save of the season, gives up a hit and a walk, and strikes out one.
***POUNDING PUJOLS***
Can this guy hit 84? Amazing streak and an amazing player... nobody in the history of the MLB has hit 14 HRs in April until today. Albert:...
| | |
| --- | --- |
| &nbsp May 3, 2006 | &nbsp TIG REPORTS &nbsp |
TIG Report 1: Introducing the 'Today in Geek' Report
(By: Reedster)
[Reprinted from baseballgeeks.mlblogs.com, from April 29, 2006]
Gregg and I had a brief discussion today about doing a regular (hopefully a few times a week... if not more, eventually, as we get into the swing of the season) column on the day in baseball. We are temporarily calling it the TODAY IN GEEK (or TIG) report. Here is my first attempt. TIG REPORT NUMERO UNO.
***MADDOG IS A BADASS***
I predicted this morning at Baseballgeeks that Greg Maddux was going to go 6 innings and give up 4 runs in a 7-3 loss to the Brew Crew. While I was lucky enough to look like the prognosticator of all prognosticators in our last two podcasts (last week, predicting Barry's first HR, and the week...
PAGE 2/13
Tickco.com - Tickets for the Red Sox, White Sox, Braves, Cubs, Yankees, Royals & all World Baseball Classic games.

Tickco.com - Tickets for Red Sox, Astros, Mets, Reds, Yankees, Cardinals & the World Baseball Classic.
Comments (2)